Joined

Jan 9, 2022
Messages

11
Reaction score

1
My first Thread, making $700,000 with crypto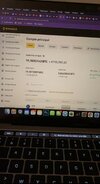 I am French dyslexic, I translate everything with google translation
My telegram channel moneymaxxing in french :
https://t.me/+UD0KYrfxB4Nnb6l_
My telegram channel moneymaxxing english :
t.me/vincenthartmanen
First of all you have to be aware that cryptocurrency and a huge ponzi, which young people are propelling since they are poorer than ever and they cannot buy real estate which is much too expensive, so we retract on something that requires less investment. But really I don't believe in crypto in any way it's just a stupid people walk that he tries to make money but 90% he loses, so by just taking a simple rule you can win 90% of the time
When the world is scared and terrified like right now, it's not about crypto, the only ones talking about it is because crypto is going to crash, well those are the best times to invest in it every month.
When we will be in Bullrun and the media will start talking about it, that all is well in the best of worlds and that everyone comes to tell you the crypto and the future the nft and the future, be terrorized and start selling little by little small every month/week is the worst time to buy
Simple basic rules that no one can follow because of their emotions and their relationship to money if you have 100k€ in income each month and you but 10k€ in cryptos you don't care, whereas if you win 2K€ and you but 1K€ you will be afraid
Where I made a lot of my money in cryptos was by investing 30K€ in March 2020 in ether, where everyone was crying I laid my balls that the table I was 17, I had 30k€ that I had earned by doing dropshipping I earned a little ready 250k€ between my 16 and 18 years old but I was spending 15-20,000€ per month living with my parents lmao to buy everything I dreamed of I'll talk about it in another thread, but the only way to make money is to sell, sell, sell.
At the moment all and at the lowest and it's likely to continue at the moment I'm doing this post, it's a great time to invest in crypto, Solana / ETH these are the cryptos I'm on , BTC if you want more security, If you want to play risk invest in the solana at least 10K€ it and currently at 28€ I see it going up to 300-900€ for the next bull runs which would make a minimum x10 above that seems correct to me personally I put 100K€ on it because I am only afraid of confidence with this kind of crypto after the Luna crash
Here are my thoughts, compared to crypto, I will talk about nft from web3 later even if I hate it and I think it's a huge cow dung, but there's never been so much money to do in this day so quickly and easily, so you have to learn and adapt.
I will post on this telegram an access to my crypto wallet, an update every day / week,
:
t.me/vincenthartmanen
Have a nice day or evening everyone, make money, fuck bitches and enjoy while you're young it's the key to happiness,
7 august 2022, Vincent Hartman